How to Certify: Foot Care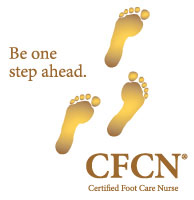 Foot care assessment, intervention, and patient education are critical for managing the foot issues faced by so many patients. That is why the Wound, Ostomy and Continence Nursing Certification Board created the Certified Foot Care Nurse (CFCN®) credentialing process.
Since 2005, nearly 1,000 Certified Foot Care Nurses have elevated the quality of foot care for patients in hospitals, long term care facilities, podiatry offices, and in their own homes. The increased credibility, recognition, and authority conveyed by CFCN certification have led to greater opportunities to develop foot care interventions that improve patient wellbeing and enhance risk management.
Validate your knowledge, skills, and abilities by becoming a Certified Foot Care Nurse.
Your pathway to certification begins with the Application and Examination Handbook.
CFCNs who are ready for recertification can maintain their credential by
examination
or by portfolio submission, the
Professional Growth Program (PGP)
.