Eligibility for Wound, Ostomy or Continence Certification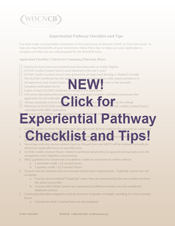 Certification by the WOCNCB validates that you have passed a national exam that accurately reflects the knowledge and skill required by the specialties you practice. You may certify in one, two or all three of the wound, ostomy or continence (WOC) specialties.
Complete eligibility information is found in the Exam Handbook. To be eligible to take the WOC Certification Exams, you must complete the following:
Be currently licensed as a Registered Nurse
Hold a bachelor's degree
Fulfill ONE of the following educational and clinical practice requirements:
TRADITIONAL PATHWAY
You have completed a WOCN® Society accredited WOC Nursing Education Program within the last five years.
International candidates completing a WCETN Education Program may also apply via the traditional pathway.
OR
EXPERIENTIAL PATHWAY
You have completed the Experiential Pathway, which requires 50 contact hours or equivalent in college course work post-bachelorís degree, per specialty, within the last five years. In addition, the pathway requires a minimum of 1500 clinical hours completed within the past five years, and 375 of those hours competed within the past year.
Click here to access the Exam Handbook.
For information about Recertifying your non-lapsed credentials or Certifying after your credentials have lapsed, please refer to the
Exam Handbook
.