Consumers
You and Your Family Deserve Expert Care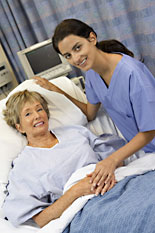 Making the right decision regarding your healthcare providers can determine how quickly you get back on your feet. It also can determine how much you pay for care, because faster healing time means lower expenses.
Of course you want the most skilled and knowledgeable nursing team working for you. This is why it is so important for your nurse to be board certified. Board certification demonstrates that your nurse has an ongoing, personal commitment to specialty education and professional growth that leads to quality patient care.
Shouldn't a WOCNCB certified nurse be caring for you?